FIRST LOOK: Designerlebrity's Will&Grace Premiere Viewing Party!
On Thursday, September 28th, Designerlebrity™ held a Will&Grace premiere viewing party at the beautiful Schwartz Design Showroom in Stamford Connecticut. Celebrating the show's anticipated return with over fifty attendees that included designerlebrities like HGTV's Blanche Garcia and Tori McBrien, CBS talk show host, Donna Drake from Live It Up, Clare Blasius, publisher of athome Magazine, #shoplikeadesignerlebrity partners, Mitchell Gold & Bob Williams and Ethan Allen, New York Interior Design Society's Vice President, David Santiago, representatives from Safavieh, Michael Dawkins and associated press, Tastefully Inspired. Not to mention getting THE Will&Grace blessing on Instagram during the viewing which erupted in the loudest applause and screams. The evening was a smashing success and fun had by all.
Schwartz Design Showroom Party Prep!
Our sincerest thanks goes out to the incredible team and owner, Alexis Varbero of Schwartz Design Showroom. Guests enjoyed the beautiful and glamorous ambience of home that even the cast of Will&Grace would be envious of. The showroom created a well lit spot for photo-ops at our custom-made step & repeat, comfortable seating around a 60" television with optimum surround sound throughout the entire showroom and had Simply Hailee NY catered the most appropriate desserts and bar menu:
Boozy Cake Bites
Boozy Brownies
Chocolate Covered Strawberries
Champagne Chantilly Shooters (Champagne/Sparkling Wine Infused Pastry Cream)
Boozed Soaked Rainbow Skittles and Twizzlers
Fizzy Spiked Apple Cider
Cranberry + Thyme Gin & Tonic
Pomegranate Whiskey Sour (or Ginger Spritzer)
Pear Spiced Moscow Mule
Manhattan
Then there was the showstopping rainbow lit LUGE created by Ice Matters and given as a 20th wedding anniversary gift from Designerlebrity™ creator, Barbara Viteri's husband. It stood at almost four feet tall and its specific job was to pour the show's most hilarious character, Karen Walker's favorite Vodka through it into a diamond encrusted martini glass also gifted to Barbara from our #shoplikedesignerlebrity partners, Z Gallerie. After your glass was full, you were instructed to grab your pill bottle and play a game of champagne pong! Even the swag bags contained a few of Karen's pill bottles, a custom designed Designerlebrity™ stemless wine glass (made by a super Designerlebrity fan, Christine Fuller for every guest!) and a few fun items beautifully placed in Schwartz sleek hand bag with rainbow tissue paper.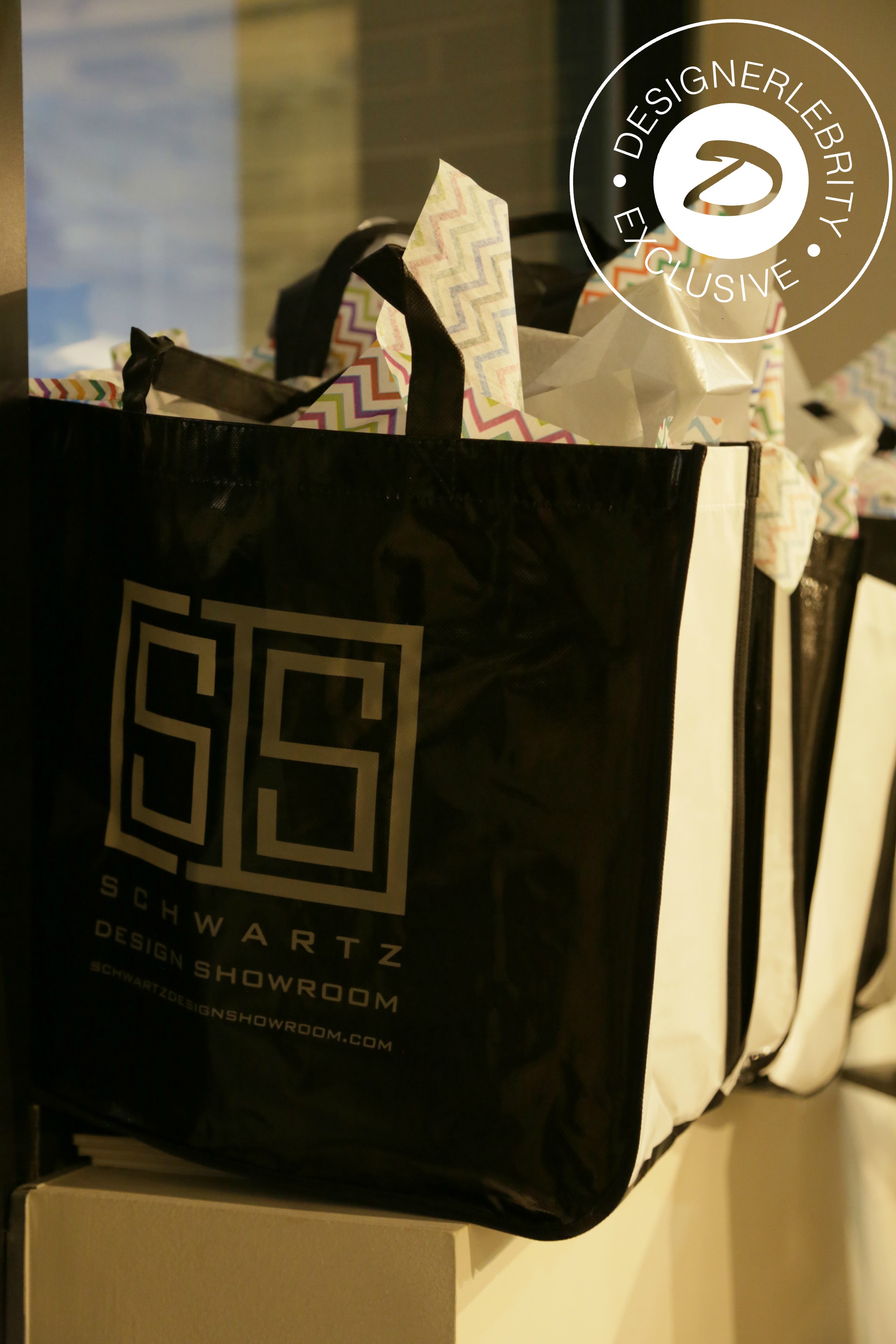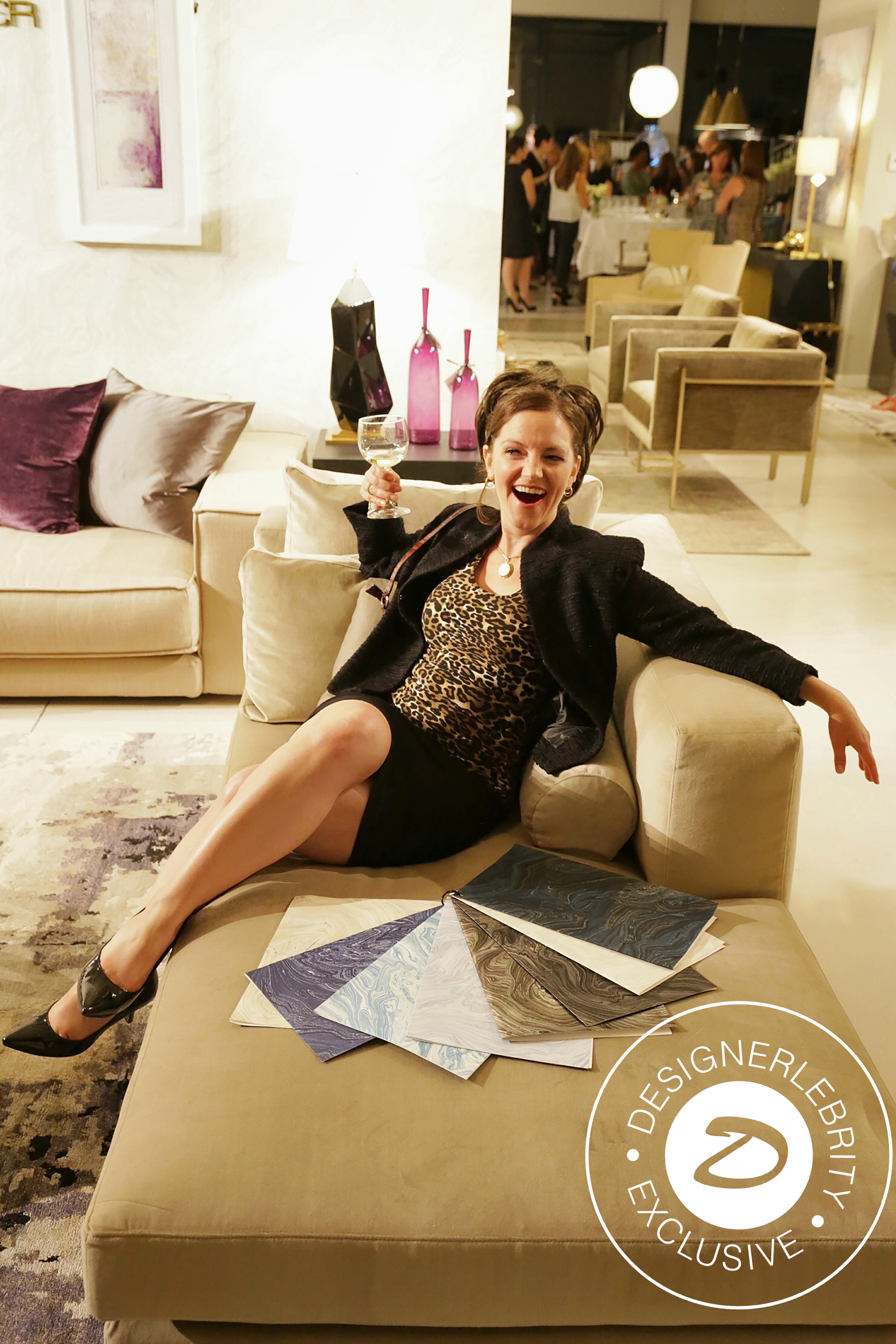 Step & Repeat
If we missed your name we are blaming it on the al-al-al-alcohol. Sorry, but booze and pills made us into Karen Walkers. Seriously we had a few Karens and a Grace partying hard at the Step & Repeat. One Karen brought "Juice Boxes"! (Remember that episode?)
Can't thank you all enough for coming, celebrating and viewing Will&Grace with us! You all answered the most important Will&Grace question:
"Honey, what's this? What's going on? What's Happening?" - Karen Walker (and Barbara Viteri)